"The War Merit Cross"

Av Gordon Williamson och Josef Charita
Förlag Bender Publishing
Format 23 x 16 cm (Förlagets gängse format)
457 sidor, 739 foton
Pris 64,95 USD

Jag kan inte rekommendera boken. Möjligen kan det ligga ett värde i dess anslående yttre samt att det kan vara trevligt att äga ett signerat och numrerat exemplar för den som var snabbt framme.

Innehållsmässigt är dock boken en besvikelse. Hälften av innehållet slösas bort på information om personer som erhållit KVK:s riddarkors. Förvisso är det en imponerande bragd att sammanställa detta material, men alla dessa detaljuppgifter om lokförare, veterinärer m. fl. saknar enligt min mening helt intresse ur samlarsynpunkt och borde ha getts ut som en separat bok.

Resten av boken, den första hälften utgörs i stort sett av gammal skåpmat som redan finns i tidigare referensböcker, samlartidningar och på internet.

Det mest användbara avsnittet är knappt 30 sidor (av 457!) som avhandlar KVK 1. Bra bilder på fram- och baksidor samt förstoringar på tillverkarmärkningar. Dock känns avsnittet ofullständigt och ostrukturerat, för att inte säga rörigt. Informationen borde ha delats upp på de olika tillverkarna, nu känns det som om ordningsföljden är helt slumpmässig.

Uppgifter om mått, vikt och andra kännetecken som kan användas för att identifiera tillverkare samt avslöja kopior saknas helt. Bildförstoringar på nålanordningar saknas också.

En stor svaghet är även en total frånvaro av information om kopior.

Boken verkar vara slarvigt korrekturläst och innehåller stavfel och faktafel. Exempelvis påstås att den tillverkare som döljer sig bakom märkningen "42" skulle vara Gebr. Bender, Oberstein. Sådana fel kunde förekomma på 70-talet, men sedan många år finns ju korrektare information om tillverkare att inhämta på ett flertal internetsidor.

Författaren avslutar förordet med följande kaxiga ord: "Until now, there has been no real in-depth information available on these awards…"

Delvis sant! Vi har väntat länge. Men vi får uppenbarligen fortsätta att vänta…
Bilagor: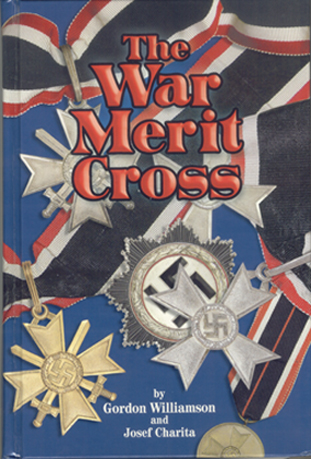 The War Merit Cross, framsidan.jpg [ 165.99 KiB | Visad 2276 gånger ]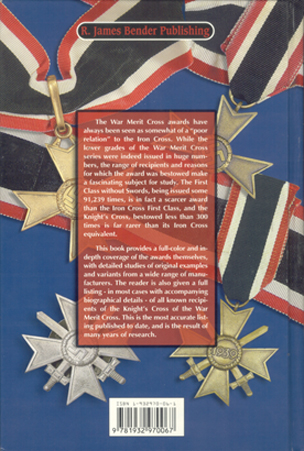 The War Merit Cross, baksidan.jpg [ 166.24 KiB | Visad 2276 gånger ]


Senast uppknuffad av vonWrede tis feb 19, 2013 8:07 pm.